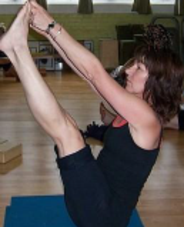 Jane Fitzgerald is a certified Iyengar Yoga Instructor and has been teaching yoga since 1999.  Through her own practice she has overcome plantar fasciitis and made strides towards eliminating migraine headaches, among other ailments. She earned her Introductory Level II Iyengar Teaching certification in 2008. Her India studies include Sri H.S. Arun's Prashant Yogashraya in 2000 and the Ramamani Iyengar Memorial Yoga Institute in Pune in 2007 and 2011
Jane owes a debt of gratitude to the Iyengar Family and to her teachers who put her back on track over and over again: Bruce Roger, Jyoti Hansa, Suzie Muchnick, Lois Steinberg and Sri H. S. Arun.
Jayne Langsam  (aka "Jane with a Y") has been a student of Yoga since 2000 and has been substitute teaching for Jane Fitzgerald since 2005.  She is passionate about new and different yoga props and forever strives to find a better way for you to reach that unreachable tight spot in the back, the foot, etc.   She works to incorporate yoga into her everyday life through mindfulness, overcoming the urge to "overdo" and learning not to take herself so seriously.
Jayne has had many role models and teachers in the her yoga career.  She especially thanks Jane Fitzgerald for taking her under her wing, and putting up with her endless questions.  She also takes workshops with Kathy Simon, Bruce Rogers, Suzie Muchnick, Lois Steinberg and Sri H. S. Arun.
Daniela moved to St. Louis in 2008 and took her first yoga class (her first yoga class ever) with Jane Fitzgerald in 2009.  Since then she has been regularly taking classes with Jane and substitute teaching as much as she can.
She enjoys leading classes and embraces Jane's approach to teaching yoga: a serious attention to method and technique with a light-hearted bent. Although she admits she still has much to learn, she sees herself as proof that you canteach an old dog new tricks and loves to share that experience with others.