Earlybird Enrollment Ends Monday!
Workshop with Josh Borgmeyer, P.T., Ph.D.
Wednesday, October 17, 2018
"Fix Your Shoulders, Fix Your Neck –  The Hips Will Follow"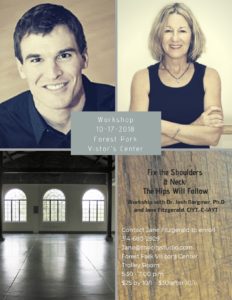 Let's face it – We have 2 different shoulders. One seems higher and drops forward or back. It sounds harmless but this imbalance can cause the upper back to twist which brings the neck out of alignment.  The eyes and head then seek the horizon which causes the upper back and spine to be "kinked up".  What then happens in the hips below?  All this twisting, turning and compensating can cause problems down the chain of the body.  In this workshop, we'll identify these body tendencies/ habits and learn how to undo them. As always, you will learn simple solutions for stretching and achieving more space – to become taller and more open, flexible and free. This freedom  results in better posture and better organic function. Regardless of your age and skill level, you will benefit from this workshop.
Better Posture Means Better Overall Health!
Next workshop in the Meet the PT Series:
Happy New You! – Move Smarter, Safer, Stronger
Josh Borgmeyer, PT, DPT, MTC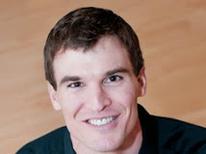 Wed, January 17, 2018
5:30 – 7:00 p.m.
Forest Park Visitor's Center Trolley Room
5595 Grand Drive, St. Louis, MO  63112
Jane and Josh will teach you how to make your poses stronger and safer and get new results. We will teach you about common muscle imbalances that lead to pain and dysfunction. You will learn to move more intelligently and prevent injury.
Better posture means better overall health!